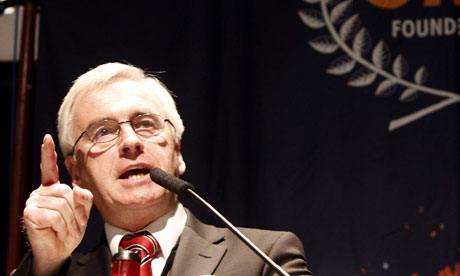 Thursday's Morning Star reported
that the Labour frontbench failed to back a Labour backbench amendment to the Finance Bill that would have forced the government to report on the feasibility of introducing the modest
'Robin Hood' Tax
on financial transactions.
The parliamentary debate can be viewed via
Hansard
, and I particularly recommend the moving speech by John McDonnell MP (excerpt below) but what is shocking is that such a moderate proposal with such widespread appeal was opposed by the Labour frontbench. In fact only 25 MPs voted for it, and they were:
Gregory Campbell (DUP), Ronnie Campbell (Lab), Jeremy Corbyn (Lab), John Cryer (Lab), Frank Dobson (Lab), Mark Durkan (SDLP), Jonathan Edwards (Plaid), Andrew George (LD), Kate Hoey (Lab), Kelvin Hopkins (Lab), Stewart Hosie (SNP), Elfyn Llwyd (Plaid), Caroline Lucas (Green), Angus MacNeil (SNP), William McCrea (DUP), Alasdair McDonnell (SDLP), John McDonnell (Lab), Andrew Miller (Lab), Austin Mitchell (Lab), Margaret Ritchie (SDLP), Angus Robertson (SNP), Dennis Skinner (Lab), Mike Weir (SNP), Eilidh Whiteford (SNP), Hywel Williams (Plaid), David Winnick (Lab) and Mike Wood (Lab).
The question John McDonnell MP rightly asks is why the Labour frontbench has refused to support calls for Robin Hood Tax. Another opportunity to lead a progressive, popular campaign lost. As this was a Treasury issue, why did shadow Chancellor Ed Balls not back it? And why has Ed Miliband missed an opportunity to support this policy and place Labour back at the head of a progressive coalition?
John McDonnell:

I can think of no better day on which to debate this issue, having seen the pictures shown on our television screens last night and today of the tragedy that is taking place in the horn of Africa. This morning, Radio 4 broadcast the story of a family—parents with one child—who had walked for miles to the aid station, only to find that the one-year-old child had died as a result of suffering the drought and famine. I also commend last night's "Dispatches" programme, presented by Jon Snow, which identified the activities of Rachmanite landlords in west London. Some of those landlords operate in my constituency, and the matter has been raised in the Chamber in the past. It demonstrates the poverty that still exists in this country.

On a personal note, let me say that this morning I received letters from children at Cherry Lane primary school in my constituency as part of their campaign to encourage politicians to think about how we can fund education in the developing world so that children there can go to school. That is what my proposal is all about.

When the transaction tax was relaunched last year as the Robin Hood tax, it was supported by a wide range of churches and religious organisations. I will not name them all, but let me give Members a flavour of them. They included the Trades Union Congress, Crisis, Action Aid, Article 12 in Scotland, Barnardo's, the Catholic Fund for Overseas Development, Christian Aid, Church Action on Poverty, Comic Relief, the Church of Scotland's Church and Society Council, the Christian Socialist Movement, the Disability Alliance, the Ecumenical Council for Corporate Responsibility, EveryChild, Family Action, Faith2Share, Friends of the Earth, the General Assembly of Unitarian and Free Christian Churches, Greenpeace, Oxfam, Quaker Peace and Social Witness, Save the Children, Tearfund and the Salvation Army.

That was the largest alliance of civil society organisations that we have seen in generations campaigning on a single issue, and, as you know, Mr Speaker, they came here last month. Twelve hundred people came to Parliament, and met us in Central Hall over a cup of tea. The event was organised in particular by Oxfam, Action Aid, Save the Children, Tearfund, CAFOD and Christian Aid, and their message was simple: 1 billion people have no access to clean water and 2.5 billion lack basic sanitation, and it is time for change and action.

Read full speech and debate and online