Andrew Fisher, author of The Failed Experiment ... and how to build an economy that works, looks at the coalition government's ability to increase poverty ...
Today the DWP and ONS published data on
Households Below Average Income
(abbreviated to HBAI data by wonks).
Overall, after housing costs, 21% of UK citizens (13.2 million) are in relative poverty. The HBAI categorises nearly all its data into before housing costs (BHC) and after housing costs (AHC).
While the distinction can be statistically interesting, for the very simple reason that most people live in housing as a necessary part of their existence I concentrate on AHC data in this post. This shows that 23% of working age adults are living in poverty - the highest level since 2000.
And if you look at the chart below, it's not hard to see why poverty has increased: real terms incomes have fallen dramatically since 2009/10 - and are at their lowest for 12 years.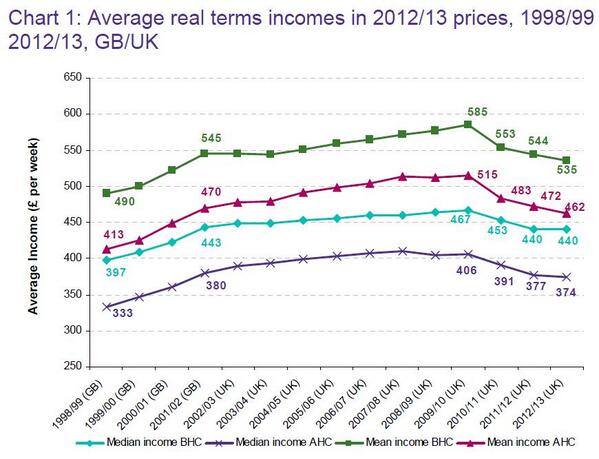 This dramatic fall in incomes - down 8.5% in real terms since 2009/10 - gives some context to why nearly 1.5 million workers (from Unison, GMB, Unite, PCS, NUT and NIPSA) are taking co-ordinated strike action next week (10 July) over pay.
There's bad news on child poverty too - 27% of children (3.7 million) live in relative poverty in the UK, up 100,000 in last year. And
Save the Children predicts
this could balloon to 5 million by 2020.
There's even worse news for disabled people - which is hardly surprising given the attack on the social security system (including ESA, PIP and bedroom tax). After housing costs, 4.7m people in households with at least one disabled member live in relative poverty - up 300,000 in the last year. Even BHC, the report tells us that "the percentage of individuals in absolute low income in families where at least one member is disabled up from 20 to 22 per cent".
And while pensioners are actually the group least likely to be in poverty, the report also notes "there was a small increase in the percentage [of pensioners] in absolute low income since 2009/10".
Who'd have thought that cutting benefits, freezing pay, hiking VAT, and allowing house prices to rise would send more people into poverty?
But it's not bad news for everyone - the richest 1000 Britons increased their wealth by £70 billion in the last year alone.
So support the 1.5m workers striking to get a fair pay rise on 10 July.